Free software for download
A simple version of the program can be used for commercial and non-commercial purposes, study and research. They contain only the basic functions of the supplied systems. Details are provided in the license by pressing the button on the home screen. After verifying that the software is useful for you, you can order the professional version in the form available using the button on the screen.
In professional versions, the number is limited only by the capacity of your computer. They contain a number of other special functions entered by parameters. Input data can be text files or Excel files, output data can be text files, Excel or Word files. You can try communication with Office on the demo program here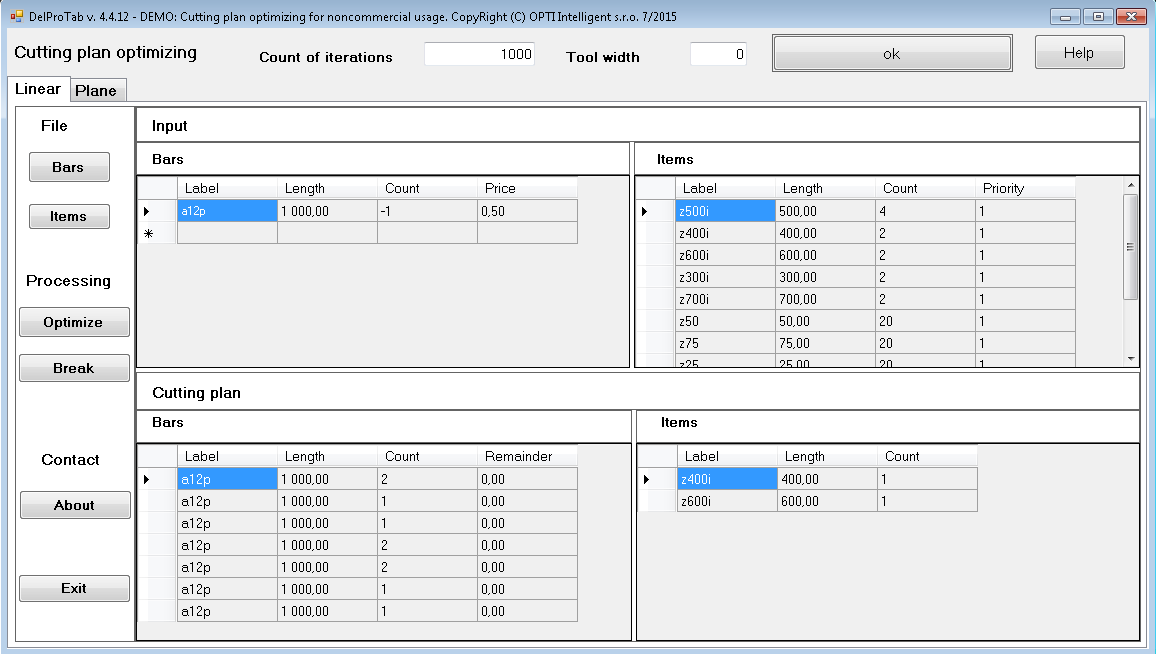 DelProTab Free (simple version) New
System DelProTab creates plans for cutting bars or planar material. The goal is to find plan which would produce minimum waste. System uses the modern theory of artificial intelligence in combination with heuristics which were improved during last years. The software is easy to use so an operator worker can use software flexible and can minimize loss.
In the new version, a connection to Microsoft Office is added (input from Excel, reports of results in Excel, Word or pdf) and material cutting on angle saws.
Price list of individual versions:
| | | | |
| --- | --- | --- | --- |
| Product | Simple version | Professional version | Multi license including sale (price for 1 license) |
| Bar optimization | 0,- € | 400,- € | 300,- € |
| Optimization of regular objects on the panel | 0,- € | 400,- € | 300,- € |
| Bar + surface optimization combined | 0,- € | 600,- € | 400,- € |
| Optimization of material cutting on angle saws | 0,- € | 800,- € | 600,- € |
---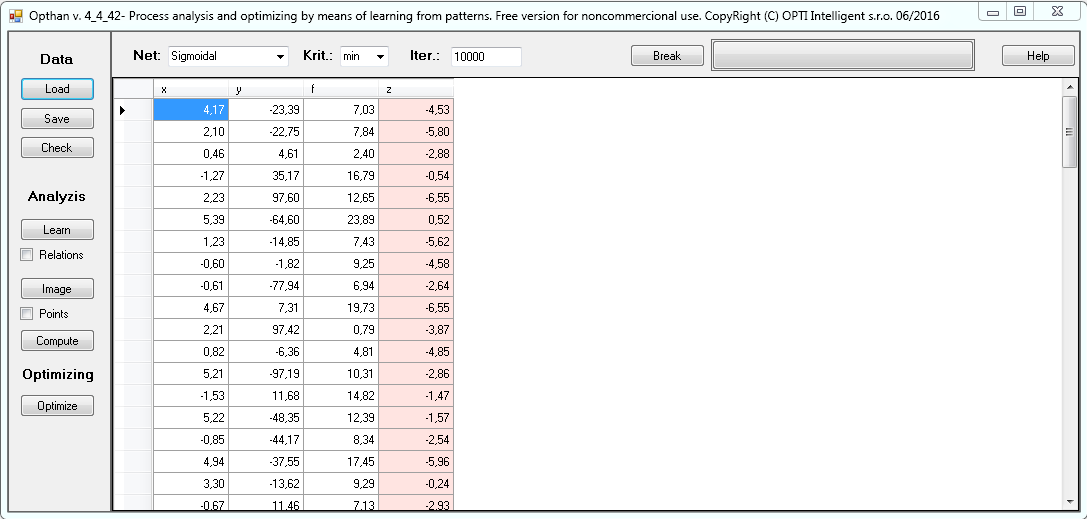 Opthan Free (simple version)
The system Opthan is intended to provide common analysis and optimizing of processes. They use most modern methods of artificial intelligence theory in combination of original heuristic methods developed in course of authors' long-term research activity. The goal was to provide technologists an easy controllable tool for an evaluation of very large process data collection, for a discovery possible defects in these data and graphical display of the dependencies in this process and for proposing a combination of optional parameters in order to achieve the best economic effect.
Detailed information about this system and application examples can be found in the file Tutorial.docx.
Price list of individual versions:
| | | | |
| --- | --- | --- | --- |
| Product | Simple version | Professional version | Multi license including sale (price for 1 license) |
| Analysis and optimization of processes | 0,- € | 800,- € | 600,- € |